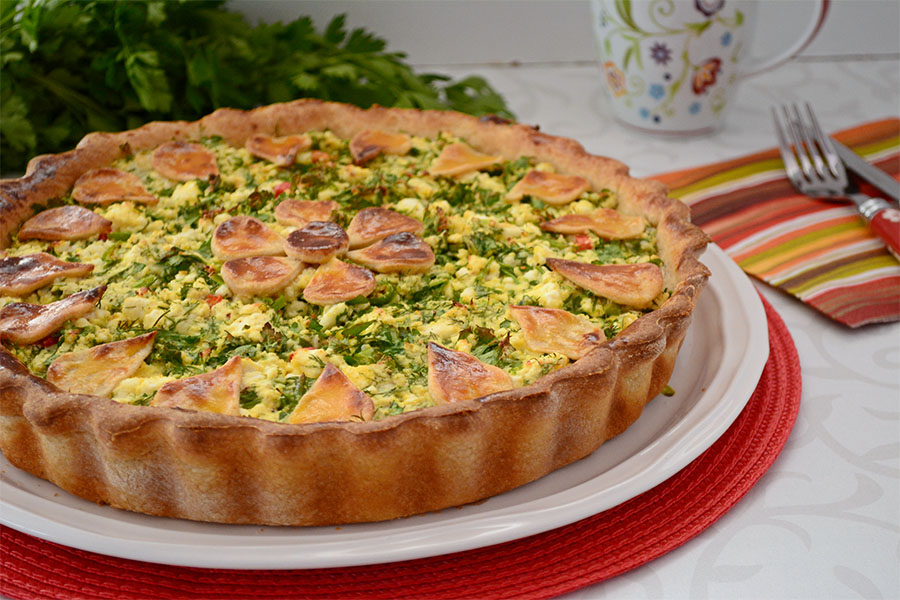 We have a perfect tart stuffed with cheese inside and bread outside recipe. You can use any Kaanlar cheese products for this recipe which will bring joy to your breakfast.
THREE-CHEESE SALTY TART
Ingredients
2 water cups of flour
Milk a little more than 1 tea cup
1 egg
1/2 tea cup of olive oil
1 tea spoon of salt
2 tea spoons of dry yeast
1 tea spoon of sugar
For the cheese stuffing
400 gr Kaanlar curd cheese
1 water cup of Kaanlar shreeded Kashar cheese
1 water cup of Kaanlar White Cheese
4 eggs (one egg yolk is for spreading onto dough)
1/2 bunch of parsley, 1/2 bunch of dill
Salt if the curd cheese is salt-free
1 tea spoon of black pepper
Chili pepper (optional)
How to make Cheese Tart?
Knead the dough by using dough ingredients until the dough become as thick as an earlobe.
Cover the dough and rest it for the fermentation process. Prepare the stuffing while the dough is getting fermented.
Mix cheeses, parsley and spices. Break the eggs just before spreading the stuffing onto dough so that they will not become watery.
Spare one egg yolk to spread onto tart.
Roll out the dough with rolling pin at the thickness of 0.5 cm and spread the dough onto the tart pan at the diameter of 28 cm.
Cut the excess dough on the edges by pressing with rolling pin.
Prick the base of dough at regular intervals with a fork so that it will not swell too much.
Break the egg and spread it onto stuffing mixture.
Roll out the remaining dough and cut it with a leaf-shaped cutter. Lay these pieces on to the dough at regular intervals.
Spread the egg yolk onto leaves and edges of the tart.
Put the tart into the preheated oven of 200 degrees and cook it until it is as brown as a berry.
After taking it from the oven, allow it to cool for 20 minutes and serve it by slicing.
Bon Appetite.