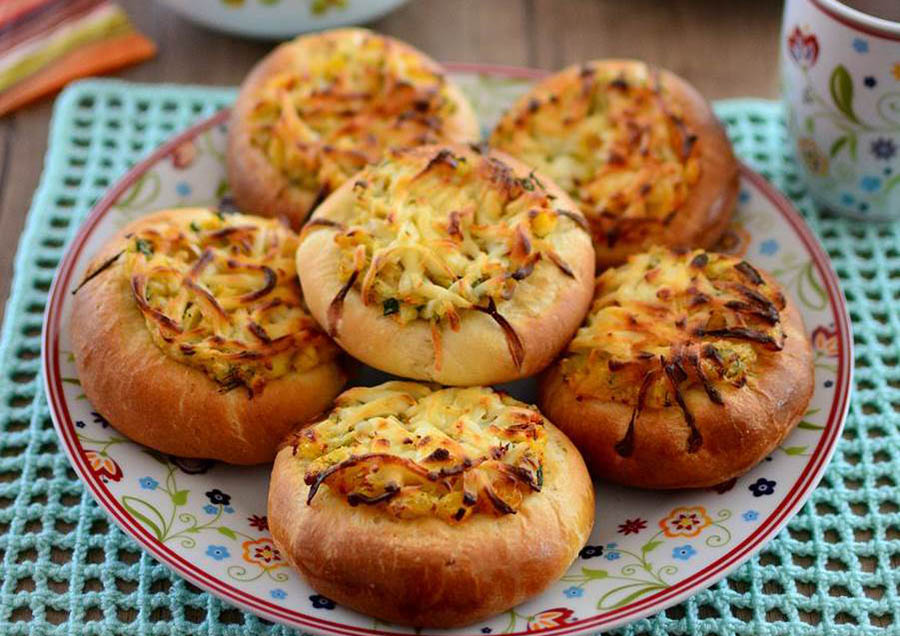 Baked Potato Pastry Recipe
Extremely tasty, fun to prepare and an elegantly presented pastry… While serving you can decorate it with ketchup and mayonnaise to peak the taste.
Dough Ingredients
1 water cup of warm milk
1 water cup of water
1 water cup of olive oil
1 egg
5 table spoons of sugar
5 dessert spoons of salt
6-7 water cups of flour
1/2 package of fresh yeast(21 gr.)
Potato Stuffing Ingredients
4 middle-sized boiled potatoes
1/2 bunch of dill
1 spring Onions
4 table spoons of mayonnaise
1 tea spoon of boiled corn
1 tea spoon of black pepper and cumin
Salt, chili pepper (optional)
If you desire, you can add pickles to the stuffing.
For topping: Kashar Cheese (Kaanlar)
How to prepare Baked Potatoe Pastry?
For preparing the dough, add all liquid ingredients, salt, sugar and yeast together. Add flour slowly until you get a dough as thick as earlobe.
Cover it and let it fermented. Meanwhile, prepare the stuffing ingredients.
Mash the boiled potatoes. Add spices, salt, mayonnaise, corn, finely chopped dill and spring onnions and mix them.
Take mandarin-sized pieces from the fermented dough and set them on the tray, do not forget to leave space between them and flatten them by pressing gently with your hand. Take a spoonful of baked potato ingredient and place them onto the dough pieces by pressing them gently.
If you desire, you can apply egg yolk onto the the edges.
Lastly, add shredded Kaanlar Kashar cheese on the top of stuffing and wait for 15 minutes for it to be fermented on the tray.
Place them in the cold oven which is set to 180 degree, bake them until roasted.
Bon Appetite.