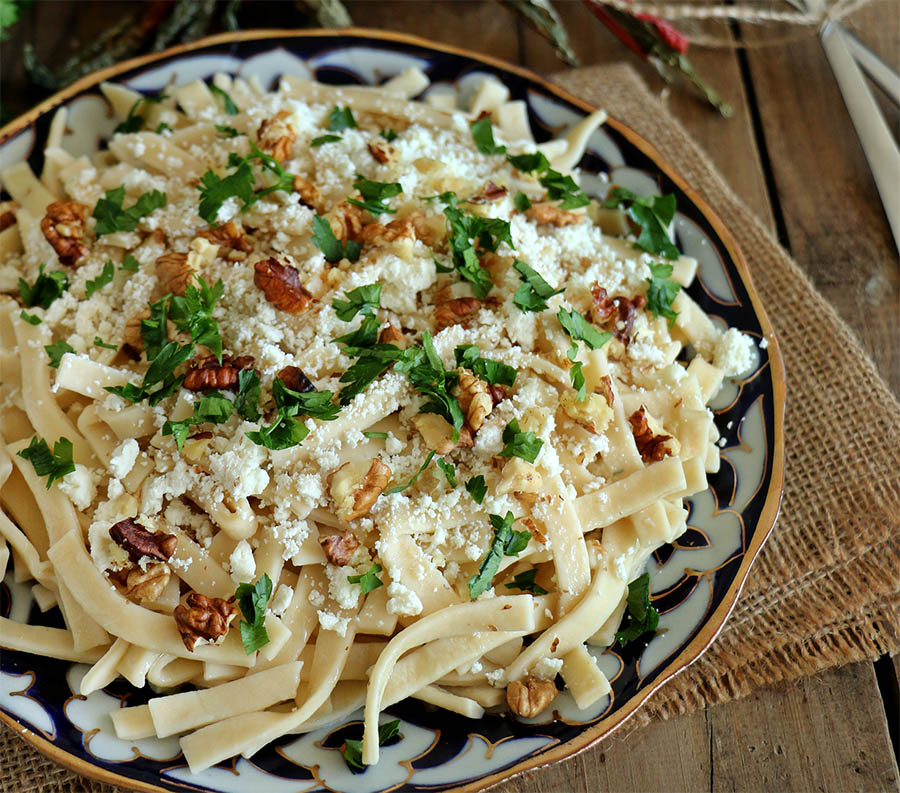 Vermicelli with Cheese and Walnuts
Have you ever tried Vermicelli with cheese and walnuts? Vermicelli go together perfectly with Kaanlar Tulum Cheese and Walnuts. Ofcourse it is more tasty with butter but if you want it to be low-calorie meal, you can add a little bit olive oil in it.
Ingredients
Ingredients for Pasta
2 eggs
5 tea cups of water
4 water cups of flour
1 dessert spoon of salt
For topping: 1/2 tea cups of olive oil or 1 table spoon of Kaanlar butter
1 small bowl of Kaanlar Tulum Cheese, 1 palm of cracked walnut, parsley (optional)
Preperation
Crack the eggs and put them into a food processor. Add water and salt. Add 1 cup of flour and run the processor. When the ingredients all mixed, add the remaning flour. Mix until dough becomes piece by piece. Dough should be firm. (It looks in pieces but they get together when you gather them with your hand.)
Rest the dough for 15 minutes and divide in to 4 pieces.
Roll the dough with vermicelli machine if possible or by hand with a rolling pin and cut it thinly. If you are going to roll and cut the dough by hand, roll a thicker dough and leave it on floured surface top uncovered for half an hour before cutting. By doing that dough will become drier and will be cut easily.
Add some salt to the boiling water. Add the vermicellis you cut when the water starts boiling again.
2-3 minutes after the vermicellis rise to the surface, pour it into the strainer and drain the water.
Take vermicellis to a seperate bowl and pour some olive oil on them. Or heated butter.
After putting them on the service plate, add some tulum cheese, cracked walnuts and thinly chopped parsley and serve it.
Bon Appetite.